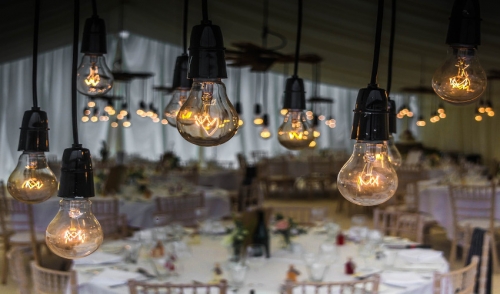 Remember growing up and being excited about going to your best friends pool party and then all of sudden bad weather strikes? One second its sunny and then out of nowhere comes dark clouds and lightning. Then the next worse thing happens: the cancellation notice. All of the excitement and joy burned in a single phone call, text message, or email. It happened to me recently at a music festival. There was no contingency plan and we were all forced to go home and were issued refunds. While getting your money back can be nice, ultimately you still missed out on a one of a kind experience. This begs the question: How do you handle bad weather during your party? I'm sure many ideas come to mind, but for the sake of anyone reading this article here are a few pointers on how to keep the party going.
Handling bad weather during any event starts with planning and preparation. However, the issue is that bad weather could come out of nowhere and is not always expected. The easiest way to plan and prepare on short notice is renting essential items that are needed to maintain the enjoyment of your guests. If it's an outdoor party, make sure to have a tent ready to go or already set up. If its raining or snowing a tent will provide you with the protection needed to brave the elements. You can also rent additional tent attachments like sidewalls and space heaters to keep the space free of wind and warm enough for people to take off their coats. Renting also allows you take care of situations that require a little more effort such as snow blowers to clear a parking lot, sidewalks/walkways, and driveways from snow. Additional items such as heating towers and portable fire pits are always good additions and help keep people warm in areas where extra warmth is required. If the weather is warmer where you are and you want to cool it down, you can rent industrial size fans or portable AC units to keep the party cool. Another useful item that has many uses is tarp. Tarp has to be one of most handy items to have on hand. Even if you don't already own one I encourage you to rent one anyway. If there's a hole in a tent or you want something valuable to remain dry, a tarp and some twine will work wonders! One last fun way to handle bad weather is to rent games and toys that embrace the weather. If you can't beat it, it doesn't hurt to join it through games and little bit of fun.
Renting certain resources is just one way to handle bad weather during a party. It's quick, affordable, and convenient. Be prepared and beat the weather at your next event to keep the party going.