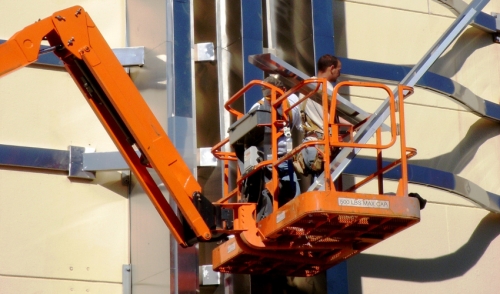 When working on a job site, height can play a huge role in how you attack a specific project. Dealing with tall projects on a job site is one of the most common and dangerous tasks there is. Whether your business is construction, renovation, painting, or even trimming trees; you need to use a lift that makes you feel safe and secure. Lifts are important to elevate yourself and other workers to new heights and allowing them to safely finish their work.
Owning lifts can be expensive and unnecessary depending on how often you find yourself amongst large projects. Instead of putting a down payment on an expensive lift, try renting one. There are a variety of lifts to choose from, each with its own unique applications. Popular lifts you can rent from your local dealer include scissor, boom, telehandler, and material. Scissor lifts are among the most widely used lifts to move personnel and equipment in a vertical direction. These lifts are great for painters and warehouses. Scissor lifts typically extend from 10-60 feet and run on four wheels. They also serve as a great substitute for scaffolding as they offer more stability and safety. If you're looking for a more versatile lift then talk to your rental dealer about snagging a boom lift. Nicknamed the 'cherry picker,' these lifts come in a variety of sizes and can move in all directions. The greatest benefit to renting a boom lift is its range of motion. Depending on the size of the machine boom lifts can extend up to 180 feet and offers a 360-degree field of rotation. This will allow you to reach tough spots that scissor lifts and ladders can't. For more industrial and heavy duty projects, rent a telehandler lift. Unlike scissor and boom lifts, telehandler lifts are controlled by operators at the base of the machine versus the extension of the platform. Telehandlers are very similar to boom lifts, but can handle larger loading capacities up to 10,000 pounds. Given their size and function telehandler lifts are more difficult to move around, require ample turning room, and can't be manipulated while raising the platform. When moving this piece of equipment, be sure to use caution and a solid approach. Often times, proper heavy machinery training is required to use this lift. The last lift to consider renting is a material lift. Similar to fork lifts; material lifts are manually operated lifts that can lift large pieces of equipment to elevated surfaces. These are great for contractors looking to move dry wall or large objects. The right material lifts can lift over 1000 pounds over 10 feet high.
Making the decision to rent the right lift for your job can be tough. To make things easier, consult with your rental dealer to weigh the advantages of each lift as well as specific models and brands. Renting lifts will also offer you the flexibility to make exchanges when needed and find the best option for you long term. Contact your rental dealer today to explore their inventory and rent a lift that best meets the needs of your next project.